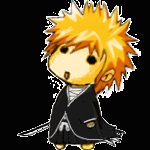 Jtkl788 is one of Jeramu-kun's 3 split personalities,and the original one.
Origin:None,original personality
Age:14
Personality: Jtkl788's personality was originally a mixture of NovaKoKieo's and ChaosLordOmegaFS' personality.But after splitting,he became "the dumbass".
He often surfaces when NovaKoKieo is in control of the body,resulting in him and nova getting into a "Mental Battle". He always loses and is bullied by Nova because of his pacifist nature.
Hobbies: Drawing Manga,annoying Nova
Likes: TRRC,TRRC ChatBox pals,food,RP,Geography,English,Sprites,Anime,Manga
Dislikes: Stress,SkyKoKieo,ChaosLordOmegaFS,Evil,Fighting,homework,vegetables,skool activities,choral speaking
Friends:Jtkl788 is friends with Star,Joizer,CielSara,Mayune and Luna.
Accents:Jtkl788 likes annoying Nova with a british accent,which often gets him into trouble.
On March 20th Jtkl left Rocknarok along with Nova and returned on March 28th. For more info view Nova's Page
His status as of now is unknown, but it is assumed that him and CLOFS don't surface any longer and the fact that the three might have rejoined back into a single personality.
Ad blocker interference detected!
Wikia is a free-to-use site that makes money from advertising. We have a modified experience for viewers using ad blockers

Wikia is not accessible if you've made further modifications. Remove the custom ad blocker rule(s) and the page will load as expected.